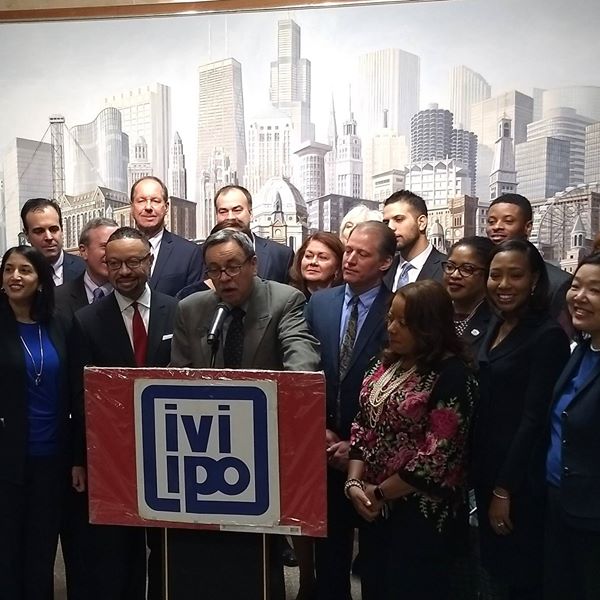 The dictionary defines "independent" as "free from outside control .
Governor Ralph Northam's 2020 State of the Commonwealth Address
. .
not depending on another for livelihood or subsistence."
The Independent Voters of Illinois/Independent Precinct Organization certainly thinks of itself that way. The vaunted Chicago political group holds itself out as the anti-Machine, an organization that lets policy views and not patronage or campaign cash guide its actions.
Does IVI/IPO still live up to its name? A fundraiser the group is holding tonight certainly raises some questions.
The event, technically a "meet and greet holiday party" at the Near West Side Chicago Teachers Union Center, offers candidates in the March primary an opportunity to mingle with and impress IVI/IPO members as the group begins its endorsement process. But just like events thrown by big-name pols in both parties, including President Donald Trump, some candidates will get more of a chance to make their case than others—depending on how big the check is.
For instance, according to the event's "candidate support tiers" emailed to supporters and posted on IVI/IPO's website, a $125 candidate donation will get you in the door and mentioned in the printed program.
A $200 donation includes the above plus mention in a "press release to local media."
The $300 package is better. The donating candidates will be introduced from the stage and score "inclusion in repeating PowerPoint video slide with name, office and photo." Nice.
But best is what the big-hearted candidate with $500 to spend can obtain. He or she will get all of the above and a two-minute opportunity to address—and presumably impress—everyone at the event from the stage.
Now, some may suspect that's just good old-fashioned politics, minus the cigar-filled room. But IVI/IPO Chair Steven Stern sees it differently.
"It's just a way in which we're trying to pay the expenses for our program," Stern told me. "It's strictly voluntary. And it does not affect our endorsements."
Not even a little bit? I mean, doesn't the opportunity to speak to the crowd and have your name repeatedly mentioned in a video and printed material help make the donating candidate some friends?
"There's no definite linkage" and "there's no guarantee" of an endorsement, Stern replied. "The thing that will be most helpful (in getting an endorsement) is how you answer the questions" on the group's questionnaire.
Stern said he's "not sure" if the group had a similar pricing schedule for last year's holiday bash.
Meanwhile, for those who don't want to miss any chance, IVI/IPO will be happy to take your money. As the bug at the end of its invite says, "Buy Tickets and Sponsorships Here."