Homeschooling a Child with Pervasive Developmental Disorder (PDD)
Homeschooling Children with Autism
Choosing to homeschool the autistic child is often a decision families come to reluctantly. While some families worry about the additional social challenges that come with learning at home, others wonder how they're supposed to teach material they themselves haven't completed in years.
Fortunately, dozens of comprehensive curricula exist to alleviate the pressures put on both homeschooling parents and homeschooled children. The 10 curricula listed below are some of the best for children with autism. We put together our list based on a variety of factors, including flexibility, customization, and user-friendliness.
Educational Options for Children With Autism
We also consulted a number of reviews and asked the pros — the parents and teachers themselves. While not every curriculum on our list is specifically designed for students with autism spectrum disorder, they all contain features that are currently working well for hundreds of autistic homeschooled children around the world.
Featured Curricula
Abeka Curriculum
Abeka Curriculum is a Christian curriculum well-suited for children on the autism spectrum.
A favorite of many homeschooling families, Abeka primarily consists of a series of workbooks that children are sure to enjoy.
In addition to new material, each lesson depends upon spaced repetition and drills to help develop mastery and comfort with any topic. Though the curriculum is mostly written, Abeka does include a series of DVDs that add a fun visual and interactive component to learning.
ACE: Autism Curriculum Encyclopedia
The Autism Curriculum Encyclopedia ACE) is a complete education package specifically designed as an Applied Behavior Analysis program.
Its software-based curriculum is completely customizable, and lessons range from basic skills to more advanced concepts such as solving equations and writing essays. This popular program is especially well-liked by students because it focuses on a child's strengths as it moves through a subject.
Calvert Education
Calvert Education's secular curriculum has been around for more than 100 years, and thousands of homeschool families, military families, and even professional child actors and athletes have chosen it as their preferred education.
Though Calvert is not designed specifically for students on the autism spectrum, the curriculum's completely flexible set-up appeals to many students on the ASD spectrum.
IDEA: Ideal Goals, Inconsistent Practices
Students and their parents can choose to finish an entire program (grade level), or choose from a list of individual courses and subjects, depending upon the student's interest and ability level.
Easy Peasy All-in-One Homeschool
Unlike the other homeschool curriculaon this list, the Easy Peasy All-in-One Homeschool curriculum is not produced or distributed by a large company.
Rather, it was designed by a homeschool mother and is completely free. Better yet, Easy Peasy requires only that students have access to the internet and a computer, and nearly all of the materials cost nothing at all.
This curriculum is best suited for those children who are able to work independently from a task list with or without parental guidance.
Gemm Learning
Gemm Learning is an online learning software that creates a customized curriculum suitable for each individual child.
The curriculum, which is available for students as young as age 5, begins with a behavioral assessment completed by a parent and a reading assessment completed by the student. After approximately four months, parents begin receiving weekly updates on their child's progress through the curriculum.
Uniquely, Gemm Learning also provides its curriculum families with live support 24 hours a day, 7 days a week to address questions and concerns.
Memoria Press
Although it's not specifically designed for students on the autism spectrum, Memoria Press's K-12 curriculum includes a number of features that make it ideal for those with high-functioning autism or other learning disabilities.
Rooted in classical education, Memoria Press offers distraction-free, age-appropriate material in the form of textbooks and workbooks.
Featured Curricula
Each subject is well-organized into lessons designed to be completed one week at a time, and requires a solid mix of parent-led discussion and student independence. Subjects offered include math, language arts, literature, science, classical studies, and geography, and every subject follows a routine based upon review and repetition.
This curriculum includes Latin, a process language that has long been applauded for its ability to improve critical thinking skills.
Teacher guides are available for each subject, and parents may choose whether or not to use the weekly assessments.
TeachTown
TeachTown is easily one of the most popular curriculum when it comes to homeschooling a child with autism.
Two tracks are available — TeachTown Basic and TeachTown Social Skills — and each track extends to approximately age 12.
Homeschooling Children with Autism
TeachTown Basic is a mix of computer-based and parent-led learning, offering subjects including vocabulary, language skills, cognitive skills, and other academic subjects. TeachTown Social Skills is an online program available at the elementary and middle school levels.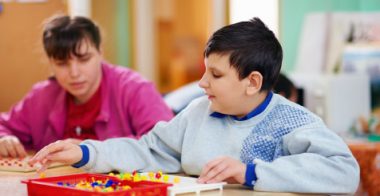 This unique program features relatable animated characters which help students to learn to read social cues, recognize emotion, and talk in a group, among other things.
Both programs offer a free 30-day trial.
Timberdoodle
Timberdoodle is a unique curriculum appropriate for students in elementary school and middle school.
Finding the Best States with Services for Autism
Parents are able to customize the curriculum based upon their child's strengths and interests. The curriculum then comes in the form of a kit which includes everything from lesson materials to supplementary puzzles and activities. The lists of subjects offered is extensive, including art, STEM, and even the Bible.
Time 4 Learning
Time 4 Learning is an interactive online curriculum specifically designed for students with Asperger's Syndrome and high-functioning autism.
The curriculum is completely automated, which allows students to move through lessons at their own pace and with or without the immediate help of an adult. Furthermore, each lesson combines social and academic learning, and often emulates real-life scenarios.
Understanding the Diagnosis of Autism Spectrum Disorder - Real Life Tips for Kids With Autism
For example, a math lesson might be presented as a conversation between two animated characters. In addition to a full academic curriculum, Time 4 Learning also offers a Summer Learning curriculum and an After School curriculum.
Wilo Star 3D
Wilo Star 3D may just be the homeschool curriculum of the future.
Autism Education Options
This interactive online program actually creates a virtual classroom so that students can "attend" class. Best suited for those with high-functioning autism or Asperger's, Wilo Star 3D presents each lesson via PowerPoint, whiteboard, or audio/video messaging, while also encouraging a certain amount of independence during study time. Subjects include English, math, and history, among others, and students complete assignments and tasks based on their specific Knowledge Tower.