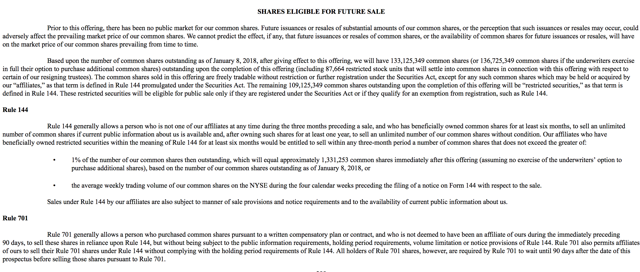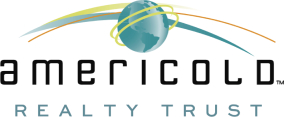 Company: Americold Realty Trust
Symbol: COLD
Description: They are the world's largest owner and operator of temperature-controlled warehouses.
Shares: 24 million
Price Range: $14.00-$16.00
Trade Date: 1/19
Underwriter(s): BofA Merrill Lynch, J.P. Morgan, RBC Capital
Co-Manager(s): Rabo Securities, Baird, Citizens Capital Markets, Raymond James, SunTrust Robinson Humphrey, BB&T Capital Markets, BTIG
Filed: 1-9-18
Link to S-1/A Prospectus
Link to Retail Roadshow
Business: As of September 30, 2017, they operated a global network of 160 high-quality warehouses encompassing 945.3 million cubic feet, with 142 warehouses in the United States, six warehouses in Australia, seven warehouses in New Zealand, two warehouses in Argentina and three warehouses in Canada.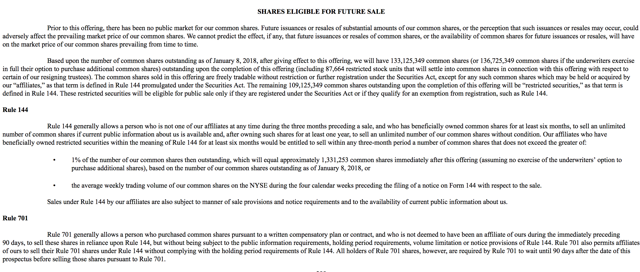 Upon the completion of this offering, they will be the first publicly traded REIT focused on the temperature-controlled warehouse industry.
They consider their temperature-controlled warehouses to be "mission-critical" real estate in the markets they serve from "farm to fork" and an integral component of the temperature-controlled food infrastructure supply chain, which we refer to as the "cold chain." The cold chain is vital for maintaining the quality of food producers', distributors', retailers' and e-tailers' temperature-sensitive products, protecting brand reputation and ensuring consumer safety and satisfaction.
Customers: Their customers depend upon the location, high-quality, integration and scale of our portfolio to ensure the integrity and efficient distribution of their products.
Many of their warehouses are located in key logistics corridors in the countries in which we operate, including strategically critical U.S.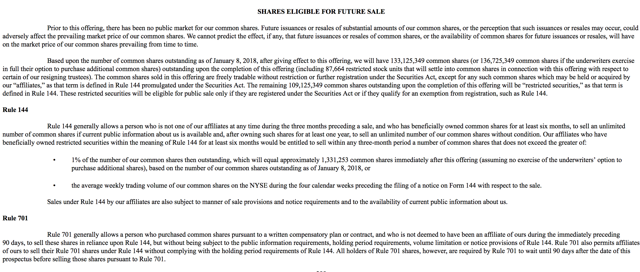 and international MSAs, while others are connected or immediately adjacent to customers' production facilities. They believe their strategic locations and the extensive geographic presence of their integrated warehouse network are fundamental to their customers' ability to optimize their distribution networks while reducing their capital expenditures, operating costs and supply-chain risks.
Many of the warehouses in their real estate portfolio have been modernized to reduce their power costs and increase their competitive position through reliable temperature-control systems and processes.
Financials:
Their total revenues were $1.017 billion, $1.027 billion, $1.039 billion, $1.057 billion, and $1.080 billion, and their net income (loss) was ($28.1 million), ($30.8 million), ($42.4 million), ($21.2 million), and $4.9 million in 2012, 2013, 2014, 2015 and 2016, respectively.
In the first three quarters of 2017, their total revenues increased 4.2% to $1.142 billion and their net loss increased 15.9% to $8.6 million, compared to the results in the same period in the previous year.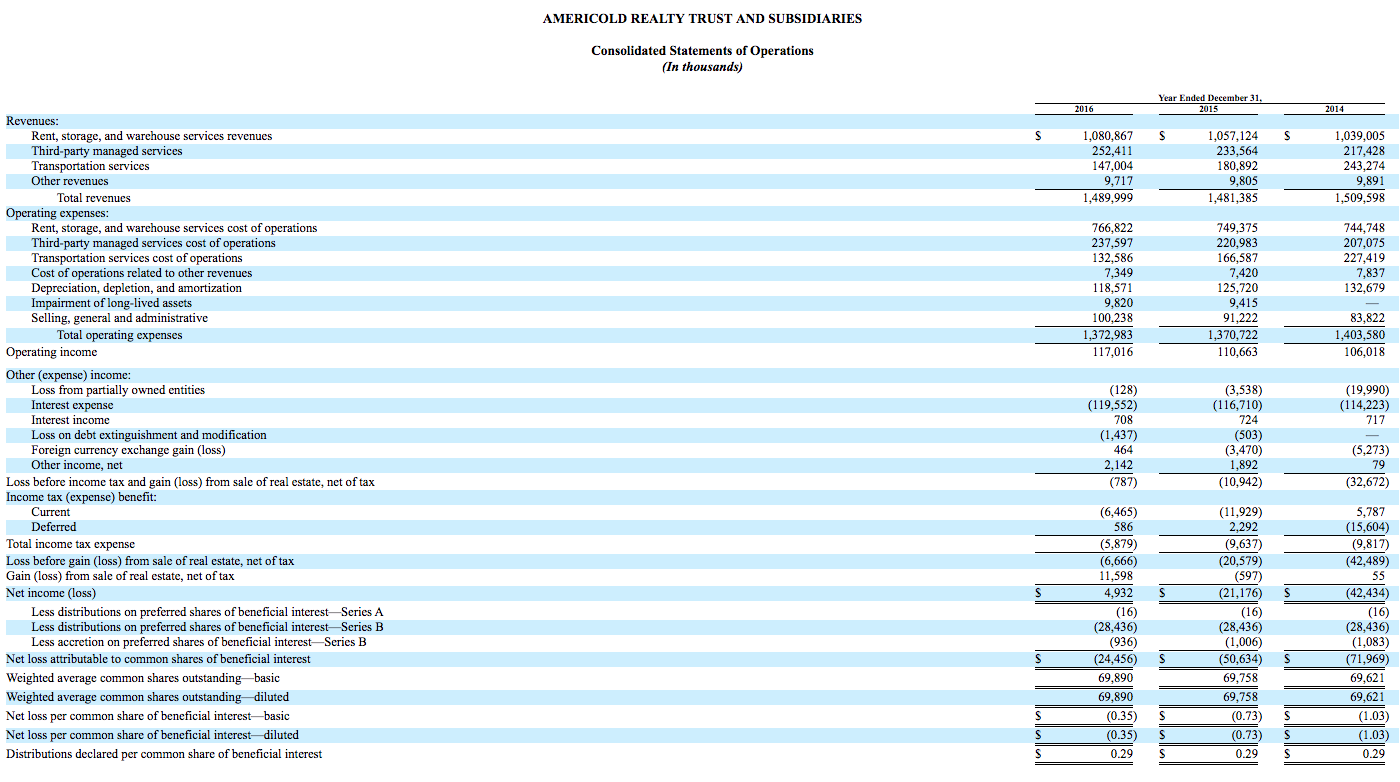 Distributions: They intend to make regular quarterly distributions to holders of their common shares.
Recent Posts
They intend to make a pro rata initial distribution with respect to the period commencing on the completion of this offering and ending March 31, 2018, based on $0.1875 per share for a full quarter. On an annualized basis, this would be $0.75 per share, or an annual distribution rate of 5.00% based on the assumed initial public offering price of $15.00 per share.
Book-Building Status: The way the book comes together during the week of the roadshow is the most critical indicator to first-day and first-week performance.
IPO Boutique uses its 45 years of experience and sources all over the street to gather daily subscription levels, specific price guidance and what type of investors are currently in the book or are anchoring orders in the book.
Americold Realty Trust (COLD) - Cold Storage Monopoly? - Dividend Investing
In addition, recent underwriter performance on sector specific deals is a strong factor that IPO Boutique takes into account when determining if our clients should indicate for any offering.
IPO Boutique subscription clients receive daily updates on this critical information.
Conclusion: IPO Boutique provides ratings, daily commentary and a forecast for how this IPO will open vs.
its offering price.
We have kept a track record with our performance for last 12 years at our website. Additionally, here's a 2017 recap of our performance to showcase the value of IPO Boutique's service.
Indicate with confidence, SUBSCRIBE today.