A Quick Reference to Everything You Need to Know About Keyman Insurance
Q: What is keyman insurance?
A: Probably the most common question we get is, what is key man insurance?
Keyman insurance is simply life insurance and/or disability insurance protection that a business purchases on one or more employees or business owners to protect the company in the case of an untimely death or disability. Key man insurance, also called key employee or key executive insurance provides peace of mind to business owners and investors alike assuring that the company can continue without interruption if a key person goes down.
If death or disability strikes a top sales person or executive, a keyman insurance policy could be the difference between your business staying afloat or having to close the doors! Key person life and disability insurance is designed to protect the organization not the key person. Nearly all policies are purchased by the business with the business being the beneficiary and the premium payer. With this coverage in place, if a covered employee dies or is disabled, the insurance proceeds are generally paid directly to the business tax free and can be used for any purpose.
Common uses for policy proceeds include covering expenses associated with finding a capable replacement or to provide cash flow needed for ongoing business concerns.
Q: Is keyman insurance tax deductible?
A: Let's face it; all businesses are looking to take advantage of tax deductions. However, premiums for key person life and disability insurance cannot be written off as a buisness expense. All employer-owned or corporate-owned life insurance is specifically covered under IRS Code Section 1.264-1(a) and states the premiums paid on the life of any officer, employee, or person financially interested in a business carried on by the taxpayer are not deductible where the taxpayer is directly or indirectly a beneficiary of the policy.
Regardless of what you may read online at other websites, the IRS strictly prohibits the deduction of business owned life insurance as an expense.
back to top
Q: Does my business need key person insurance?
A: In short, your business needs keyman insurance protection if it would be dramatically impacted if one or more employees becomes disabled or dies.
Therefore, most small businesses need this valuable coverage as they usually depend heavily on one or two people. There are other reasons why companies need key man insurance including requirements for a loan, funding business buy-outs and executive benefits.
Q: How does key man life insurance work?
A: In general, a business or organization applies for life insurance on an owner(s) or employee(s) also referred to as the insured.
The business is the owner of the policy, pays the premium and is the beneficiary in the event the key person dies. Even though an individual person is being insured, these policies are designed to protect the business.
Subscribe to RSS
If the insured dies or is disabled, the policy proceeds are payable to the business and can be used by for any purpose. Normally, companies will use the funds to recruit a qualified replacement or to cover short term revenue deficits.
back to top
Q: What is the difference between keyman insurance and term life insurance?
A: Most people do not realize that ordinary life insurance and key man life insurance are essentially the same financial product.
Both can be defined as an insurance policy that will pay a beneficiary a predefined amount of money in the event of the death of the individual, or insured, covered under the policy.
In both cases, there is a policy owner who pays the premiums and names the beneficiary. Unlike a regular life insurance policy, a key man life insurance policy is owned and paid for by the business and the business is normally the beneficiary.
What To Do Before Your Company Loses Its Most Valuable Employee

Q: How much do I need?
A: There are several frequently used methods of valuing a key person. However, the most common is the multiples of income approach. The premise is the employee's income multiplied by a certain number of years (based on the needs of the business).
Most insurance companies use a multiple of 5-7 times current salary including benefits as a general guideline. So, if a person's annual income is $200,000, a reasonable amount of coverage may be $1,000,000 to $1,400,000.
back to top
Q. What type of life insurance should I buy?
A. There are several different types of life insurance that are used in key person scenarios and the right policy will ultimately depend upon the time frame for the need of protection.
By far, level term life insurance is the most widely used life policy.
Key Employee Or Keyman
In long term situations, like planning for business continuation or executive benefits planning, whole life insurance, indexed life or universal life policies can be more appropriate.
Q: How much does a key person life insurance policy cost?
A: Prices vary based on age, health and the amount of insurance with each of the three being as equally important to the final cost.
See, sample 10-year level term rate chart to get a rough idea of what a basic policy will cost. To get an even better idea, you can also get an instant quote based on your specific circumstances right from this website.
back to top
Q: Is an insurance exam required?
A: Maybe? In most cases, yes an exam is required. However, more and more insurance companies, in limited situations, are now offering key man life insurance with no medical exam.
In order to obtain a policy, most providers will require a "mini-physical" exam also called a "paramedical exam". The exam takes about 20-30 minutes and is administered by a registered nurse or trained phlebotomists.
The "mini-physical" is completed at your convenience in your home or office or at the examiner's office whichever you prefer. The insurance company will pay the full costs of the exam and will provide you with the results of your labs free of charge. For more details on the insurance exam requirements see, Everythng you need to know about…A Paramedical Exam. The insurance exam is one of the most crucial steps in obtaining a keyman insurance policy and has a significant impact on your actual rate.
For best results, review "how to get the best results on your insurance exam."
Q: What if I do not want to do an exam?
A: As mentioned above, there are now several options to secure key man insurance with no medical exam. These policies are extremely attractive in situations like securing a loan when coverage is needed quickly to close a deal.
The underwriting time may be reduced significantly if the insured is in excellent health. However, there are limitations to nonmed policies and they are not likely the answer unless you are under the age of 60 and in extremely good health.
back to top
Q: In what health class will I qualify?
A: The health of the insured is the most important factor in determining the cost of any life insurance policy.
What Is A Key Man Policy?
Underwriting is the process where an insurance company reviews an individual's health and medical history, avocations, MVR, hobbies and lifestyle issues to determine their health class and ultimate rate. Each insurance provider has its own unique underwriting guidelines for assessing key man risk.
Most companies define the best health class as "Preferred Plus" with the "Preferred" class next followed by a "Standard" or average health class. It is a regular occurrence for competing companies to approve coverage at different health classes when evaluating the exact same information. Therefore, it is important to work with a professional agent who understands the underwriting "logistics" and can identify the company that will provide you with the best health class given your specific circumstances.
You can learn more about the underwriting guidelines and how you can identify the company that will offer you the lowest rates by reviewing, "How to determine your health class when applying for key man life insurance."
Q: What if I have a health problem or serious medical condition?
A: As mentioned previously, a current or past medical condition may significantly impact your rates.
Depending upon the degree of your condition, "advertised rates" may not be available, but there is likely an excellent chance that you may obtain an affordably priced policy. The key will be to identify the insurance provider that looks most favorably on your individual condition which requires an agent with significant underwriting experience. If you have a medical problem or are unsure about whether or not a past health issue is a factor, it is important to disclose this history to an insurance professional.
Full disclosure is the only way to guarantee the best results. Find additional tips here.
back to top
Q: What if I have already been turned down?
A: If you have previously applied for key man life insurance and been postponed, turned down or declined, it doesn't necessarily mean that you are uninsurable with all companies.
There are more than 80 competitive insurance companies in this marketplace and, as mentioned above, each of them has their own set of criteria for accessing risk. In other words, one company may decide not to offer a policy when another has an open-mind when it comes to a specific medical condition.
Does Your Company Need a Key Man Policy?
Successfully treated prostate cancer is an excellent example. After shopping, if you are ultimately uninsurable with all key man companies, there still may be an option for coverage. A Failure to Survive (FTS) policy is a last resort when all other options have proved fruitless. FTS is specialty "death protection", very similar to life insurance, that can sometimes be written with an exclusion for a specific medical condition that would otherwise render you uninsurable.
While significantly more expensive, there are many situations where a key man policy is crucial to obtaining financing, attracting an ideal investor, or just plain protecting the business.
In these cases a FTS policy can be the only solution.
Q: Why does the insurance company need my financial information?
A: Keyman insurance underwriting is a bit more complicated than simply applying for a simple life insurance policy.
The insurance company not only underwrites the insured's health but also needs to understand the underlying financial picture of the business buying the insurance. The main reason is that the insurance needs to be justified. Or, simply stated, the insurance company doesn't want the business to be in better financial shape if a key person dies than they were in the first place. Normal requirements for financial underwriting an application are business assets, liabilities and net worth along with sales, expenses and net income for the 2 previous years.
Only with this information can the insurance company determine whether or not the business needs the policy and at what level. If you are going to apply for a key person life or disability insurance policy be prepared to provide these basic financial details.
back to top
Q: How long does it take to get a policy?
A: Obtaining any life or disability insurance policy is a process.
There are basically two different approaches that MAY be available: the traditional exam option and the no exam option.
Each varies in the length of time required to obtain a policy. The details of the tradition exam option are listed in step by step detail under "How the underwriting process works." With the no exam route, the process is exactly the same as the traditional exam option without the exam.
The length of time required to get a policy approved will be in direct relation to the health of the insured. If there is ANY medical condition, even well controlled blood pressure, medical reports are usually required. This will lengthen the underwriting process. In these cases, it may be up to 6 weeks to get a policy approved.
Categories
On the other hand, if there are no health issues, policies can be approved and issued in as little as 2 weeks. With the no exam approach, policies can be approved in as short as 2 days. However, this is the exception to the norm and only applies with very healthy individuals. As a general rule, you can expect the underwriting approval process to take anywhere from 4-6 weeks with most companies.
Q: Are there any exclusions of coverage?
A: During the first 2 years of every life insurance policy there is a contractual clause known as the contestability period.
The contestability clause protects the insurance company from fraudulent and misleading statements made by applicants for insurance in an attempt to secure coverage at a better health class. In the event of a claim within the first two policy years, all insurance companies will investigate for fraud, omission of facts and deceptive statements made on the original application and insurance exam. An indication of intentional dishonesty can result in the denial of the claim.
It is the burden of the insurance company to prove that an applicant for insurance lied or committed fraud during the application process.
🔑 Keyman Insurance in Malaysia - What it is & Common Mistakes ❌ you could be making (must watch)
The contestability period also includes a suicide provision. The suicide clause states that death claims made on behalf of insured's that commit suicide within the first 2 policy years will be automatically denied.
If suicide occurs after the first 2 years, the claim will be paid. Generally speaking, fraud, misrepresentation and suicide within the first 2 years are the only policy exclusions with key man life insurance contracts. Policy language varies among companies so read your policy carefully. Disability insurance differs widely for life insurance in terms of exclusions. For more details see, key man disability exclusions.
back to top
Q: When am I required to send payments and how do I pay?
A: Payment options are flexible.
In many cases, you can submit the initial payment along with the application and "bind" the coverage as long as all of the terms of the "Conditional Receipt" are satisfied. The more common approach is to apply for the policy without any upfront payment and wait until the insurance company approves your policy before submitting money.
Definition of 'Key Employee Or Keyman'
This is commonly referred to as the cash on delivery or "COD" option. If you choose not to send money until the policy is approved, no coverage will be in effect until the insurance company receives payment. Every insurance company allows payment in one of 4 ways: annually, semi-annually, quarterly, or you may choose to pay by monthly bank draft.
The cost for these options will vary. Depending on the insurance company, there may be an extra charge of 2-6% for any option other than annual.
Q: How can I make sure that I select a good insurance company?
A: Financial ratings for most insurance companies are available with one or more of the independent ratings services. These services include AM Best, Standard & Poors, Fitch and Weiss Ratings.
Each of the independent rating services has its own criteria for ranking any life or disability insurance company. We strongly recommend using companies that have at least an "A" rating with AM Best but prefer "A+".
back to top
Q: I'm interested, what is the next step?
A: Buying keyman insurance is relatively easy and in most cases extremely affordable.
The process is almost the same as purchasing individual life and/or disability insurance. A simple application for insurance on the life of the key person is completed and submitted to the insurance company.
In most cases, a routine insurance exam or "mini physical", which is paid for by the insurance company, is required along with some financial information on the business.
The underwriting process, takes about 3-6 weeks and upon approval a policy is issued. Finally, the payment for the first premium is all that is required to make the coverage effective.
See, the life and disability insurance application process defined.
Q: If I no longer need the policy for my business, can I transfer the policy to a personal policy without penalty?
A: Yes. As a business owner, you can transfer the ownership of a business owned life insurance policy to you personally without penalty.
The IRS covers this under the "Transfer for Value" rule and exceptions. In general, it states a business owned policy can be transferred to the covered individual personally and the death benefit remains non-taxable. It is highly recommended that you consult your tax advisor for tax advice.
back to top
Q: Can the insurance company cancel my policy at any time?
A: No!
All life insurance policies are unilateral contracts meaning they cannot be cancelled by anyone other than the insured individual or the policy owner. As long the business pays the required premium, the coverage will remain in effect.
Q: Can I cancel a key person insurance policy if I no longer need it?
A: Yes!
Coverage can be cancelled at any time by simply discontinuing premium payments and there is no penalty.
back to top
Q: Will taking out a business policy impact my ability to buy personal life or disability insurance?
A: Whenever anyone applies for life or disability, one of the questions asked on the application concerns the amount of insurance currently in effect. The chief reason is that insurance companies do not want to over insure anyone.
However, they do differentiate between keyman insurance for business purposes and individual life and disability income insurance. So, in nearly all situations, business owned life and disability insurance does not affect the amount of personal insurance that you can purchase.
Q: What happens to a policy when the business is sold or no longer operating?
A: If a business is sold, any company owned policy can be maintained at the discretion of the new business owner.
Key man policy ipo
In most cases, if the insured remains with the company and that person continues to be critical to the organization's success, the policy is maintained. In situations, where the insured was a former business owner, that policy can be transferred to a personal policy or it can be terminated contingent upon the terms of the sale of the company.
If a business policy is in effect and the business closes, policies are generally not going to be renewed and will lapse due to non-payment.
back to top
Q: What companies do you represent?
A: We represent over 80 of the country's most competitive key man life and disability insurance companies.
See the companies we represent.
Q: Can I buy a key person insurance policy directly from the insurance company?
A: There are a limited amount of companies that will allow you to purchase key man insurance direct. However, there is no advantage buying directly from an insurance provider. Keyman policy costs are NOT cheaper if purchased directly from an insurance company versus from a professional insurance broker.
Life insurance rates are fixed by the state insurance departments and are consistent across the board. If rates were lower by going directly to the insurance company, it would certainly make sense to go that route.
However, that just isn't the case. Additionally, there is no reason to buy a policy directly from an insurance company when you can take advantage of the expertise of a broker who represents many companies.
back to top
Q: Can I name my spouse as the beneficiary?
A: Yes, you can name your spouse as beneficiary or partial beneficiary of a life insurance policy. However, this is highly discouraged. The reason being is that structuring a business owned life insurance policy with a personal beneficiary will cause tax implications that should be avoided.
See, "The Goodman Triangle explained" for more details.
Frequently Asked Questions
As a rule, always separate business and personal when it comes to life insurance. It doesn't cost significantly more and major tax pitfalls can be avoided.
Q: Are there any reporting requirements for keyman insurance policies?
A: As of August 2006, there are IRS reporting requirements for all business owned life insurance policies purchased from that date forward.
The COLI Best Practices Act (which is part of the Pension Protection Act of 2006), includes IRC Section 101(j). Under this law, life insurance death benefits of employer-owned life insurance policies issued after the effective date of August 17, 2006 are income taxable (to the extent the death benefit exceeds the employer's premiums) unless certain requirements for an exception to taxation are met.
Find the complete details and requirements for reporting corporate owned life insurance in the article "The Pension Protection Act of 2006 and the taxation of key man insurance."
back to top
Q: Who is MEG Financial, Inc.?

A: MEG Financial, Inc.
is a Florida based corporation that provides life insurance and financial services consulting to individuals and businesses in all 50 states and the District of Columbia. Representing over 80 of the most respected life and disability insurance companies, our primary areas of expertise include term life insurance, universal life and equity indexed universal life, disability income insurance, in-force policy review, key man life, business succession planning, insuring tough health issues and estate planning.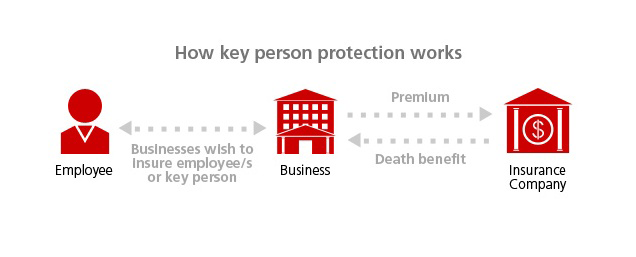 MEG Financial is the founder and publisher of the website. At MEG, we provide free insurance quotes and advice to individuals and businesses all across the United States. Since the year 2000, we have successfully helped thousands of individuals and businesses obtain life and disability insurance and have written well over US $2 billion of life insurance. During this period, we have developed key relationships and special talents and niches that allow us to get more value for our customer.
At MEG Financial, the bottom line is results and we are committed on every case to deliver the optimum policy that meets the diverse needs of each policyholder.
Q. How can I contact MEG?
A. Please visit our Contact MEG Page and feel free to reach out to us with any questions or concerns. We will respond promptly.
back to top