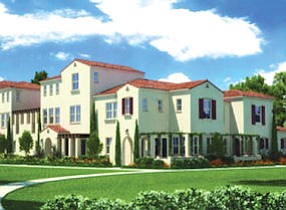 Agave rendering: planned development in Irvine; builder owns or controls land for as many as 10,500 homes altogether
Newport Beach-based William Lyon Homes is the latest Orange County builder that looks like a candidate to take advantage of Wall Street's increased interest in the homebuilding industry with an initial public offering.
The iconic homebuilder, which has been privately held since 2006, last month registered shares of its stock with the Securities and Exchange Commission on behalf of investors who helped recapitalize the company following a short stint in bankruptcy that ended early last year.
The stock registration was a planned part of the 2012 recapitalization, which has resulted in private equity firms—including Colony Capital LLC in Los Angeles along with New York-based Luxor Capital Group LP and Paulson & Co.—taking large stakes in the builder.
The recapitalization plan requires William Lyon Homes to make an effort to complete an IPO on a national exchange within three years of the stock registration, which included $89 million of the company's class A stock and another $105 million of class C and preferred stock.
Those class A and C shares now trade on the lightly traded OTC Bulletin Board.
Comments by the company, as well as the recent surge in interest for the homebuilding industry by the capital markets, suggests the larger IPO could take place well before the 2016 deadline.
The stock registration "certainly puts us in a position to take advantage of the public markets if we thought that was the right course of action for our shareholders," Matthew Zaist, executive vice president for the homebuilder, told Bloomberg/Businessweek last week.
The planned IPO would allow the company's private equity investors to cash out a larger portion of their stake in the company, beyond the shares that are now trading on the bulletin board exchange, while also raising cash for the builder to buy land.
The company owned or controlled land that could support the development of about 10,500 homes as of last September, according to regulatory filings.
William Lyon Homes, which along with its predecessor companies has built some 100,000 homes in the western U.S. over the past 50 years, joins a pair of upstart local builders on the watch list for potential IPOs.
Newport Beach-based City Ventures LLC, which has amassed land holdings across California that could support close to 10,000 homes since starting operations four years ago, also is said to be considering going public.
"We're open to all opportunities," City Ventures Chairman Craig Atkins told the Business Journal last month.
Aliso Viejo-based The New Home Co., which kicked off operations in 2009 and is building the high-end Lambert Ranch development in Irvine, also is seen as a potential IPO candidate.
Irvine-based Tri Pointe Homes Inc., which raised $233 million in a well-received IPO a little more than a month ago, was the first builder in the U.S.
The Secret Pre-IPO Market
to go public in nearly eight years.
It is expected that another half-dozen or so builders across the country will go public this year if the housing market continues to show signs of recovery.
Wall Street interests "all have their arms around the builders," said Jeff Meyers, president of Irvine-based real estate advisory and research firm Meyers LLC.
The ongoing economic recovery is expected to result in area home prices notching double-digit appreciation in 2013, said Meyers, speaking last week at a real estate development and law panel hosted by law firm Allen Matkins Leck Gamble Mallory & Natsis LLP.
With long-delayed land projects now moving ahead, and homebuilder optimism growing, "I haven't given a presentation like this in five years," Meyers said.