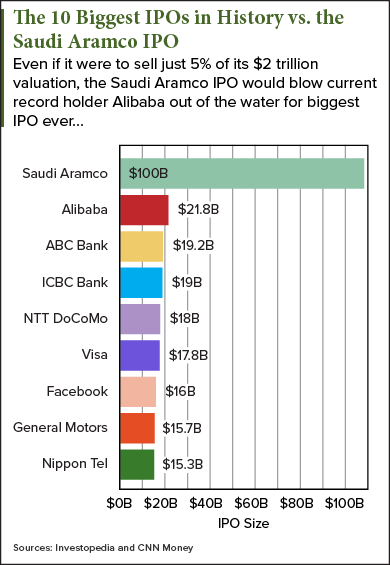 HKEX's Li on 1H Results, HK Connect, Saudi Aramco IPO
According to accounts seen by Bloomberg News, Saudi Aramco is the most profitable business in the world. The company boasts both the second-largest proven crude oil reserves and second-largest daily oil production globally.
It reportedly produces one out of every eight barrels of oil worldwide, or about 12% of global production. In addition, Saudi Aramco operates the largest single hydrocarbon network in the world.
Last year, about three-quarters of Aramco's crude exports – around 5.2 million barrels per day – were delivered to its customers in Asia, including China, South Korea, Japan, Taiwan and India.
Its crude deliveries to North America hit over 1 million barrels per day and to Europe – 864,000 barrels per day.
The business continuously expands its global presence.
For instance, in April 2019, Saudi Aramco signed a deal to acquire a 13% stake in Hyundai Oilbank, a South Korean oil refiner, for $1.24 billion. Moreover, at the same time, the company signed a long-term agreement with PKN Orlen, Poland's leading oil refiner, to supply it with Arabian Crude Oil.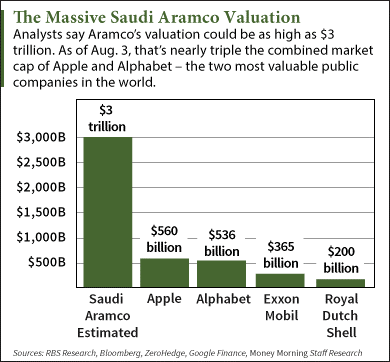 Saudi Aramco's global offices
On September 14, 2019, there were drone attacks on two Saudi Aramco facilities: the Khurais oilfield and the Abqaiq oil processing facility.
The Iran-aligned rebel army in Yemen, known as the Houthis, claimed responsibility for the attack, which reduced Saudi oil output by 5.7 million barrels per day, comprising over 5% of the world's supply.
There were discussions by the country's officials and Aramco's executives on postponing Aramco's IPO, as the attacks "sidelined more than half of the kingdom's output" of oil.
However, shortly after the strike the Saudi Energy Minister, Prince Abdulaziz bin Salman, told a press conference: "Production will be back to normal by the end of September," adding that Aramco had emerged "like a phoenix from the ashes" after the incident.
He also stated that plans for the stock market listing of Aramco would continue "as is".
On September 18, 2019, Saudi Aramco completed the acquisition of Shell Saudi Arabia Limited's 50% interest in the SASREF joint refining venture in Jubail Industrial City for $631 million.